Chiropractic Care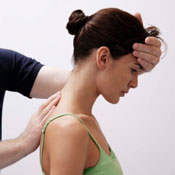 Improving Your Health, Naturally
Chiropractic care focuses on the relationship between your nervous system and spine and how they affect your function. When your nervous system works at its optimum level, every cell in your body has a better chance at being healthy.
Dr Les Pereira and Dr Martin Rose (Chiropractors) seek to locate areas of spinal dysfunction, correcting them to allow for a higher-functioning nervous system. Our drugless approach has been shown to be effective, is pain-free and may quickly return you to health.
Suiting Our Techniques to You
Whether you seek pain relief or want to get your entire family on a maintenance plan, our chiropractors are ready to help you. We see many athletes who seek care during the sporting season, or builders who visit us once a week because they feel they're less likely to miss work with regular checkups. We understand that each individual's needs are different and can provide care for your particular needs.
The techniques we offer include both manual and instrument-based methods:
Activator Methods®
Applied Kinesiology
Blocking
If you've never seen a chiropractor before, Les or Martin will walk you through the process before adjusting you. There may be a noise during the adjustment. This sound is a normal process of the body, a liquid turning into gas, and is no cause for concern. With each visit, we hope to restore the body back to its normal function and ability.
Convenient Saturday appointments are available. Find out what we can do for you — contact us today!